A Chance to Live Like Walt Disney? Still a Fantasy for Most.
Walt Disney's former Los Angeles home, now owned by film director Timur Bekmambetov, is available for rent. Timur aims to offer people the experience of staying in a historic home, which inspired Disney to create some of his greatest works, including "Snow White and the Seven Dwarfs" and "Cinderella." The catch? One month's rent is $40,000!
Built in 1932, the storybook-style house features a Turret, stained-glass windows, and a cobblestone motor court, resembling something from one of Walt's films. Bekmambetov purchased the property in 2011 and has filled it with antiques similar to Disney's childhood furniture.
Sitting about an acre in the affluent Los Feliz neighborhood, the house retains original features such as a spiral staircase and painted ceilings. The property also boasts a screening room where Disney used to watch his films. Bekmambetov considers himself the home's "keeper" and has used it as inspiration for a graphic novel and a movie script. Rare outdoor space and extraordinary grounds make it a standout property in the neighborhood, with a median sale price of $1.9 million in April.
LOCAL MARKET UPDATE
The Debt Ceiling Talks Affect Mortgage Rates
The Denver real estate market in May showed a 2% decrease in prices compared to last year. Many sellers are hesitant to list their homes due to the allure of their low mortgage rates, resulting in limited supply. The number of sales saw a significant drop of 29% compared to May 2022, partly due to discussions surrounding the debt ceiling, which caused mortgage rates to increase (more risk in the market) and slowed buyer activity. This slowed demand, coupled with limited supply, kept prices primarily stable. Mortgage applications in May remained at around 10-year lows.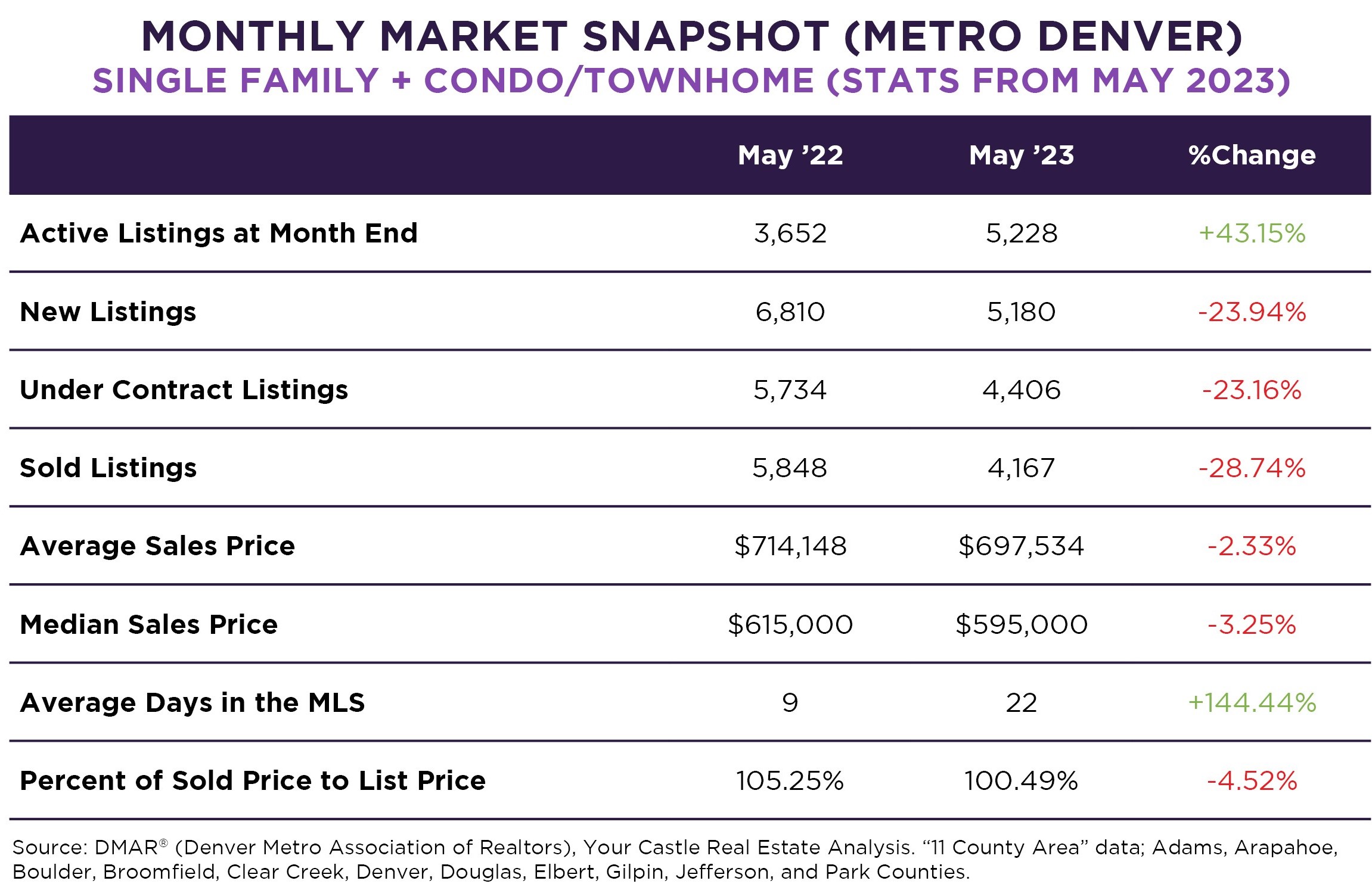 The average Days on the Market (DOM) increased by 144% from last May. Although that sounds dramatic, it amounts to going from 9 days on the market last May to 22 days now, so it's just taking an extra couple of weeks to sell a home. Active listings surged 43% from the previous year, with 5,225 available. But this is not as much inventory as we need to balance the market or tip it in buyers' favor. For your reference, May has historically seen around 14,900 listings!
The number of properties under contract decreased by 23% compared to the previous year, which signals that June will also be slower than is typical. Buyers typically had to offer a 0.5% price premium, a significant decrease from last year's 5.3% average premium. Notably, 60% of sellers had to provide concessions to close deals, with rate buydowns being a significant factor. The market is expected to maintain a delicate balance of supply and demand throughout the year. Prices overall should be in the range of +/- 3%
(Info Source: DMAR (The Denver Metro Association of Realtors, Your Castle Real Estate Analysis)
INFO FOR SELLERS
Pricing Strategy and the Importance of Disclosures
Given the market conditions in Denver, sellers must consider their pricing strategy carefully. While prices have decreased slightly compared to last year, limited supply and stable demand can work in your favor. However, it's important not to overprice your property. Ensure that your list price is realistic and competitive to attract potential buyers. Be prepared for a slightly longer time on the market, around three weeks on average. To stand out, consider enhancing your property through cosmetic repairs, staging, photography, etc. Offering concessions, such as rate buydowns or other incentives, may also help close deals.
One important note: it is crucial to prioritize transparency and proper disclosure with buyers. There has been a notable increase in lawsuits related to property flooding. Given the heavy rainfall this year, some buyers have closed on properties without disclosure of flooding issues by sellers, only to encounter basement flooding afterward. Consequently, they become upset and try to sue the sellers. To avoid liability and ensure compliance with the law, disclosing any prior flooding to potential buyers is essential. Reporting known defects is a legal obligation. Seek guidance from a real estate lawyer if you are unsure how to proceed.
(Info Source: DMAR (The Denver Metro Association of Realtors, Your Castle Real Estate Analysis)
INFO FOR BUYERS
Be Strategic About Your Offers
The current market presents some advantages for buyers. With a decrease in sales and an increase in active listings, there is more inventory to choose from compared to previous years.
However, remember that although the average price premium has significantly decreased, it's essential to approach your offer(s) strategically and be prepared for potential competition. Additionally, stay informed about mortgage rate fluctuations, as they will influence your borrowing costs!
(Info Source: DMAR (The Denver Metro Association of Realtors, Your Castle Real Estate Analysis)
*We use reasonable efforts to include accurate and up-to-date information. The real estate market changes often. We make no guarantees of future real estate performance and assume no liability for any errors or omissions in the content.